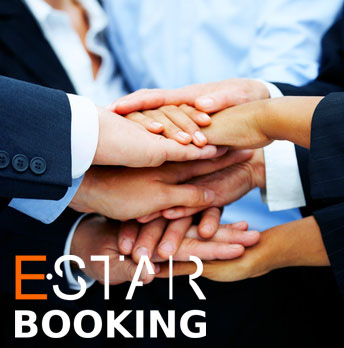 Estar Booking bring to your screen the years of experiences on Vacation Rentals Software management.
This on line web services allow you to manage properties and bookings every day, via a powerful and easy platform.
The PMS is composed by useful modules that permit you to :
- Create the Property profile, with positioning, classification, description and all the major fields necessary to have a full property information.
- Create a Property price list (per period with a daily cost), to manage an extra guest cost, to add services
- Upload Photos for Gallery.
- Add property rules
- Map amenities and facilities
- Use calendar functions to close periods to booking availbilities.
- Use iCal out URLs to update external availabilities communication.
- Create Agencies profile to manage Agency bookings (by reporting Agency fees)
- Manage a booking planner to have a direct view of availabilities and bookings.
- Manage Booking/Check in - Crew registrations, Checkouts
- Add per person taxes on booking, write booking notes, and backoffice notes
- Add optional services on bookings
- Send booking confirmationsor vouchers
- Map your properties posted on Booking.com or Expedia to continuosly update standard price and availabilities and import bookings.
- Allow your Property Owner access, to give him close period functionality, or bookings report download (XLS format)
- Connect a white label booking engine into your site to receive realtime availabilities and generate bookings.
You could also access at your XLS reports to check arrivals, departures, and booking details




Estar booking platform, our experience on holiday rentals management software at your fingertips.